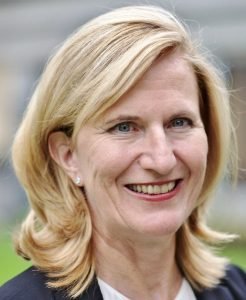 Dr. Mariann Grawe-Gerber is head of the Klaus-Grawe-Institute and president of the Board of the Klaus-Grawe-Foundation.
She graduated from Zurich University Law School in Switzerland and from the Graduate School of Arts and Science at New York University, New York, USA in Clinical and Social Psychology. In New York she completed her clinical internship and worked in a Child Psychiatry Unit for substance abusing children. While in New York she was also trained at the Ackerman Institute for Family Therapy in Manhattan.
After her return to Switzerland she began working as a clinical psychologist at the Outpatient Clinic of the Department of Clinical Psychology at Zurich University where she was also involved in psychotherapy research projects.
In 1992 she received her Doctorate in Clinical Psychology with summa cum laude. For her doctoral thesis "The psychotherapeutic process from an interpersonal perspective" she won the Faculty Prize from the University of Berne.
In 1992 she joined Professor Klaus Grawe's clinical and psychotherapy research team at Bern University where he was Head of the Department of Clinical Psychology and she also worked as a clinician in a private psychiatric practice.
Together with Klaus Grawe and Barbara Heiniger Haldimann she developed the first empirically-oriented psychotherapy training program and worked at the outpatient clinic there, where the new empirically based, non-school oriented psychological therapy was put into practice and it's effectiveness investigated.
In 1999 the Institute of Psychological Therapy was opened in Zurich and was then, after Klaus Grawe's death in 2005, named after him.
At the Klaus-Grawe-Institute for Psychological Therapy, which she directs together with Barbara Heiniger Haldimann she teaches marital therapy, family therapy, individual case conceptualization and couple- or family-based interventions in the treatment of psychological problems and mental disorders. Her main interest lies in the interpersonal context of psychological problems and the combination of disorder specific interventions with relationship changes.
As president of the Board of the Klaus-Grawe-Foundation she is also active in improving the dissemination of empirically-based psychological therapy and interventions and in efforts to prevent the development of mental disorders in children and adults.